Jean-Michel Jarre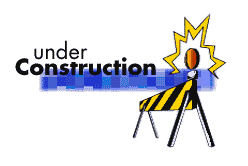 ---
Tracks:
1. Oxygene Part 1 (7.40)
2. Oxygene Part 2 (8.09)
3. Oxygene Part 3 (2.55)
4. Oxygene Part 4 (4.15)
5. Oxygene Part 5 (10.24)
6. Oxygene Part 6 (6.21)

Tracks:
1. Equinoxe Part 1 (2.23)
2. Equinoxe Part 2 (5.01)
3. Equinoxe Part 3 (5.11)
4. Equinoxe Part 4 (6.54)
5. Equinoxe Part 5 (3.47)
6. Equinoxe Part 6 (3.23)
7. Equinoxe Part 7 (7.24)
8. Equinoxe Part 8 (5.04)

Tracks:
1. The Overture (4.47)
2. Arpegiator (6.51)
3. Equinoxe IV (7.39)
4. Fishing Junks at Sunset (9.35)
5. Band in the Rain (1.23)
6. Equinoxe VII (9.52)
7. Orient Express (4.21)
8. Magnetic Fields I (0.28)
9. Magnetic Fields III (3.48)
10. Magnetic Fields IV (6.43)
11. Laser Harp (3.26)
12. Night in Shanghai (7.01)
13. The Last Rumba (2.03)
14. Magnetic Fields II (6.19)
15. Souvenir of China (4.00)

Tracks:
1. Oxygene (part 5) (1.30)
2. Ethnicolor (11.41)
3. Magnetci Fields (part 1) (8.11)
4. Souvenir of China (5.37)
5. Equinoxe (part 5) (6.01)
6. Rendez-vous III (laser-harp) (3.54)
7. Equinoxe (part 7) (5.29
8. Wooloomooloo (3.22)
9. Rendez-vous II (11.54)
10. Ron's Piece (6.35)
11. Rendez-vous IV (7.01)

Tracks:
1. Oxygene (part 4) (3.09)
2. Equinoxe (part 5) (3.22)
3. Magnetic Fields (part 2) (3.50)
4. Oxygene (part 2) (3.19)
5. Computer Weekend (3.34)
6. Equinoxe (part4) (3.13
7. Ethnicolor 1 (3.42)
8. Band in the Rain (1.26)
9. Orient Express (3.20)
10. Calypso 1 (3.06)
11. Calypso 3 (3.43)
12. Fourth Rendez-vous (3.23)
13. Moonmachine (3.00)
14. Eldorado (3.40)
15. Globe trotter (3.29)
16. Wooloomooloo (3.21)
17. Blah Blah Cafe (3.26)
18. London Kid (3.47)
19. Zoolookologie (3.48)
20. Second Rendez-vous (8.48)

Tracks:
1. Chronologie Part 1 (10.51)
2. Chronologie Part 2 (6.05)
3. Chronologie Part 3 (3.59)
4. Chronologie Part 4 (5.34)
5. Chronologie Part 5 (5.34)
6. Chronologie Part 6 (3.45)
7. Chronologie Part 7 (2.17)
8. Chronologie Part 8 (5.33)

Tracks:
1. Oxygene 7 Part 1 (4.20)
2. Oxygene 7 Part 2 (3.43)
3. Oxygene 7 Part 3 (3.38)
4. Oxygene 8 (3.54)
5. Oxygene 9 Part 1 (1.53)
6. Oxygene 9 Part 2 ( 1.56)
7. Oxygene 9 Part 3 (2.24)
8. Oxygene 10 (4.16)
9. Oxygene 11 (4.58)
10. Oxygene 12 (5.41)
11. Oxygene 13 (4.28)

Tracks:
1. Odyssey Overture (0.53)
2. Oxygene 10 Trancengenics (4.01)
3. Oxygene 7 DJ Cam Remix (4.22)
4. Oxygene 8 Hani's Oxygene 303 (4.19)
5. Oxygene 8 Hani's Oxygene 303 Reprise (2.31)
6. Odyssey Phase 2 (0.32)
7. Oxygene 10 Resistance D Treatment (6.43)
8. Oxygene 8 Transmix (3.42)
9. Oxygene 8 Sunday Club (7.32)
10. Oxygene 10 @440 Remix Dub (5.47)
11. Odyssey Phase 3 (0.14)
12. Oxygene 11 Remix (0.55)
13. Oxygene 12 Claude Monnet Remix (5.15)
14. Oxygene 8 Takkyu Ishino Extended Remix (4.21)
Bonus tracks
15. Rendez-vous '98 @440 Remix (7.14)
16. Oxygene 13 TK Remix (5.36)

Tracks:
1. Oxygene part 4
2. Equinoxe part 5
3. Oxygene part 2
4. Magnetic Fields part 2
5. Arpegiator
6. Magnetic Fields part 1
7. Orient Express
8. Equinoxe part 4
9. Oxygene part 6
10. Magnetic Fields part 4
11. Equinoxe part 3
12. Equinoxe part 1
13. Magnetic Fields part 5

Tracks:
1. Oxygene part 4
2. Equinoxe part 5
3. Oxygene part 2
4. Magnetic Fields part 2
5. Orient Express
6. Magnetic Fields part 1
7. Fishing Junks at Sunset
8. Souvenir of China
9. Equinoxe part 4
10. Oxygene part 6
11. Magnetic Fields part 4
12. Equinoxe part 3
13. Zoolokologie
14. Magnetic Fields part 5

Tracks:
1. Industrial Revolution Overture (5.20)
2. Industrial revolution part 1 ( 5.08)
3. Industrial Revolution part 2 (2.18)
4. Industrial Revolution part 3 (3.47)
5. London Kid (4.34)
6. Revolutions (4.55)
7. Tokyo Kid (5.18)
8. Computer Weekend (4.38)
9. September (3.52) A tribute to Dulcie September, one of the many South African victums dedicated to the fight against apartheid.
10. The Emigrant (3.56)

Tracks:
1. Calypso (8.23)
2. Calypso part 2 (7.10)
3. Calypso part 3 Fin de siècle (6.29)
4. Waiting for Cousteau (46.53)

Tracks:
1. Je Me Souviens (4.24)
2. C'est La Vie (7.10)
3. Rendez-vous a Paris (4.18)
4. Hey Gagarin (6.21)
5. Millions Of Stars (5.40)
6. Tout Est Blue (6.01)
7. Love Love Love (4.26)
8. Bells (3.48)
9. Miss Moon (6.08)
10. Give Me A Sign (3.49)
11. Gloria, Lonely Boy (5.32)
12. Silhoutte (2.29)

Tracks:
1. Introduction (Revolutions ) (1.03)
2. Overture Industrial Revolution (3.00)
3. Industrial Revolution part 1-2-3 (5.45)
4. Magnetic Fields part 2 (4.09)
5. Oxygene 4 (3.46)
6. Computer Weekend (5.18)
7. Revolutions (3.52)
8. London Kid (4.57)
9. Rendez-vous part 4 (4.16)
10. Rendez-vous part 2 (8.54)
11. September (4.45)
12. The Emigrant (3.53)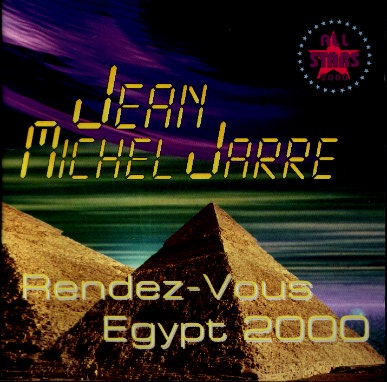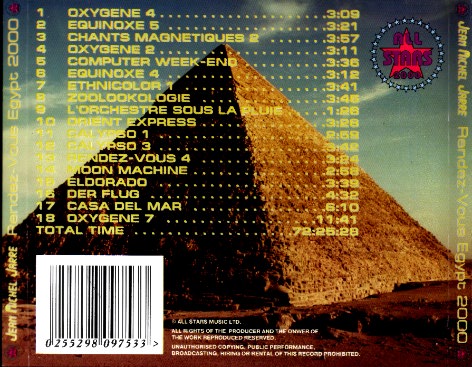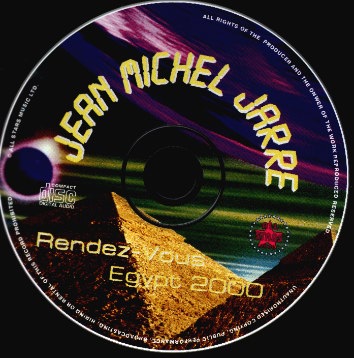 ---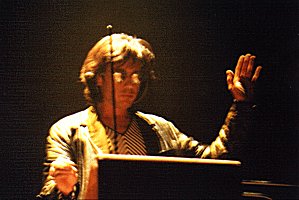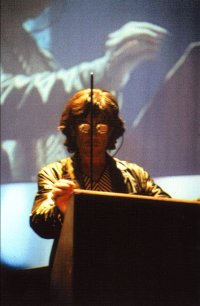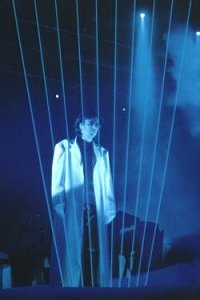 Welcome to the
Jean Michel Jarre Discography.
If you have any comments or want to add something please do not hesitate to contact Me
I hope you enjoin your stay here in one of the largest discographies about the master of synthesizers
Jean Michel Jarre.

It's an guide for any fan and that's why I ask you as fan, if you seen an item that's not in this discography please write to Me, with all the details you have about the item, and soon it will appear on this page.
Together we can keep this discography up-to-date!!!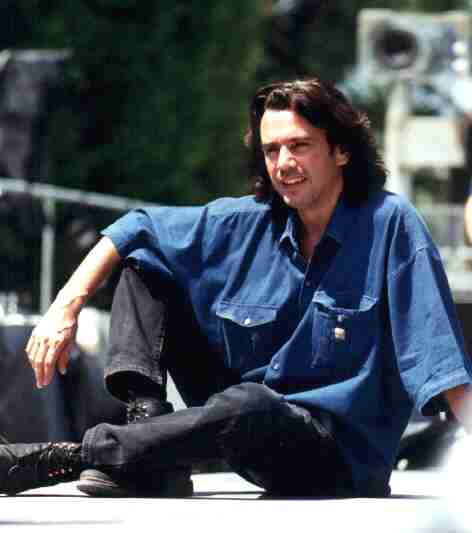 Biographie


JEAN MICHEL JARRE
BIOGRAPHY

1948: Jean Michel Jarre soutenu à Lyon 24 août, dans une famille des musiciens. À un âge très jeune, il est initié dans l'art du contrepoint, de la fugue et de l'harmonie sous la direction de Jeannine Rueff du conservatoire de Paris.

1968: En parallèle à ses études littéraires, il joint le groupe de recherche de musique (Groupe de Recherches soirée musicale, GRM) et des travaux sur des techniques électroacoustiques de musique sous la direction de Pierre Schaeffer.

1969: Apporte hors de son premier disque électroacoustique - "La Cage".

1971: Jean Michel Jarre apporte la musique électroacoustique à l'opéra de Paris en produisant les points pour le ballet "Aor".

1972: "Deserted Palace", Jean Michel Jarre's second disc. The same year he produces the soundtrack of Jean Chapot's film "Les Granges Brulees" starring Alain Delon and Simone Signoret.

1976: "Oxygene" comes out. It becomes the Number One record in the world and remains a success without precedent in French record-producing history.

1978: "Equinoxe" confirms this success and makes a further contribution to electronic rhythms and sequences. That same year, Jean Michel Jarre composes the music for Peter Fleischmann's film "La Maladie de Hambourg".

1979: One million people attend the concert given by Jean Michel Jarre at "Place de la Concorde" for 14 July. That same year, he writes the music for Peter Weir's film, "Gallipoli" starring Mel Gibson.

1980: Brings out his third album, "Les Chants Magnetiques". These more down-to-earth electroacoustic songs represent a break with the atmosphere of his previous records.

1981: Concert tour in Peking and Shanghai. Jean Michel Jarre is the first Western musician to be invited to perform by China in the post-Mao era.

1982: "Les Concerts En Chine". On his return from China, Jean Michel Jarre immediately produces a double album that is a sound chronicle of his Chinese adventure.

1983: Spectacular new gesture by Jean Michel Jarre who auctions "Musique Pour Supermarche", a disk pressed in just a single copy.

1984: "Zoolook", a disk with a radically new tone, comes out and is voted instrumental album of the year in France and the United States.

1986: Jean Michel Jarre celebrates the 150th anniversary of Houston (Texas) and the 25th anniversary of NASA at one of the most spectacular concerts ever given in the history of music. On this occasion, one and a half million Texans are introduced to Jean Michel Jarre's new album "Rendez-vous".
On 5 October, Jean Michel Jarre gives a concert in Lyon, the city of his birth, in honour of the visit of Pope John-Paul II. "Rendez-vous Lyon", which was a baroque entertainment, and a blend of classical and avant-garde, craftsmanship and hi-tech, of the past and the future, will be remembered as an outstanding concert.

1987: "Houston-Lyon, Cities in Concert", a compilation album of the best moments of both concerts given in 1986.

1988: "Revolutions". The Arab world meets computers. One of Jean Michel Jarre's most ethnic records. In October, Jarre gives two concerts in the London Docklands, "Destination Docklands", on a stage set that is half-derelict and half-renovated : a shocking mixture of graffiti, violence, disused warehouses and new architecture.

1989: "Jarre Live". More than ever, Jean Michel Jarre's music incorporates the environment in which it is played.

1990: "En attendant Cousteau" which consists of two separate parts : "Calypso", where the synthesizer meets the Trinidad steel drum, and "En attendant Cousteau", music in suspension, which is closely linked to the environment and whose ingredients unfold slowly as time passes by : "Paris-La Defense" is acclaimed on 14 July by an audience of two and a half million.

1993: Jean Michel Jarre is once again in the spotlight. In May he brings out "Chronologie", and between July and October he presents his first tour, "Europe en Concert", to an enthusiastic public, performing in fifteen of Europe's major metropolises. This time, he transforms the site on which he performs into an imaginary city of music, images and light. From Lausanne to Seville, via Wembley and Versailles, these concerts were an absolute triumph.
That same year, he is appointed "UNESCO's goodwill Ambassador".

1994: On 11 March, Jean Michel Jarre inaugurates Hong Kong City Arena at a one-off concert. On 14 November, the double live album "Hong Kong" comes out.

1995: On the occasion of the 50th anniversary of the United Nations and the Year for Tolerance, Jean Michel Jarre brought together over one and a half million people in front of the Eiffel Tower to celebrate the 14th July at a "Concert pour la Tolerance". A traditional Arab orchestra, giant puppets from the Caribbean, African percussionists and singers and the Algerian singer Khaled took part in this event.

1996: He opens his first web site in association with the French Ministry of Culture "Un espace pour la Tolerance" (A Space for Tolerance) and devotes himself to the task of producing his new album recorded in his own studio.

1997: "OXYGENE 7-13" launched worldwide on 18 February.
Preformed Oxygene Tour thru Europe, the first indoor Tour. Infact the first Tour ever for Jean Michel Jarre.
OXYGENE in Moscow : on 6 September, Jean Michel Jarre performs live in front of 3.5 million people as part of the celebrations surrounding the city's 850th anniversary.
On 12 November : worldwide launch of "Complete Oxygene - Part 1/6 - Part 7/13 + Oxygene in Moscow".

1998: 30 March - "Rendez-vous '98" single comes out. This single features in the Official album of the Football World Cup.
12 May - worldwide launch of "ODYSSEY THROUGH O2". The first interactive multimedia album.
14 July - Concert "Nuit Electronics" for the celebration of the World Football Cup, held during 12 june until 12 july.